General Dentist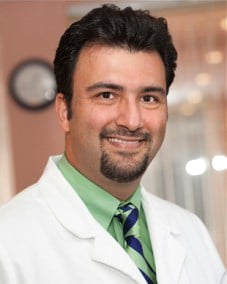 Dr. Bruce Taheri received his Bachelor of Science degree from the University of Maryland at College Park in 1994. He attained his Doctorate of Dental Surgery from New York University (NYU) in 1999.
Upon graduation, Dr. Taheri entered the North Brooklyn Health Network and completed his General Practice Residency at Woodhull hospital in Brooklyn NY. Having lived in Washington DC suburbs for most of his life, Dr. Taheri then returned to Northern Virginia to further expand his career in private practice. He currently owns and manages two multi-specialty dental practices in Woodbridge and Manassas, VA.
General Dentist
Dr. Mojgan Jamali attended the University of San Diego where she received her undergraduate degree in biology, magna cum laude.
She attended University of Maryland dental school where she received her degree of doctor of dental surgery (DDS).
Dr. Jamali joined advanced general residency program at Martinsburg VA hospital where she furthered expanded her education in treating more complicated cases.
Anishka Frankenberry, DDS
Orthodontist
Alain Juredini, DDS
Periodontist
Sylvia Mondillo, AAS
Hygienist
Office Hours
Monday

8:00 AM – 5:00 PM

Tuesday

8:00 AM – 5:00 PM

Wednesday

8:00 AM – 5:00 PM

Thursday

8:00 AM – 5:00 PM

Friday

8:00 AM – 2:00 PM

Saturday

9:00 AM – 2:00 PM
CareCredit
CareCredit is a healthcare credit card designed for your health and wellness needs. Pay for the costs of many treatments and procedures through convenient monthly payments.
Our patients leave smiling


Awesome dentist, assistants and front office staff. Gonna recommend them to everyone!

Navid M.



My family of four has been coming here for more than ten years, every six months for routine cleanings and check-ups and everything from implants to deep cleanings. This is an amazing group of professionals, from the dentists and technicians to the administrative staff. In every visit I have felt that we have been treated as valued clients.

Debra B.



If I could give a higher rating, I would. I am so glad that I found this place! I have been very impressed by all the staff here. The front desk staff are kind, they greet me by name, answer all of my questions, including tough insurance questions! The hygienists are gentle. I have a child that is very sensitive to touch, and Nina recognized this right away and knew how to make this a positive exp…

Deborah S.



Great dentist! I've done 2 root canals and a few fillings and so far everything has gone very smooth. The people at the front desk are extremely friendly and instantly made me feel comfortable being there! Excellent service

Jet L.



I have been a patient of Dr. Taheri for many years. My one word to describe him is Perfectionist. I am confident in all his does with my dental needs!

Gina C.



Thank you! These are fantastic people. The desk was friendly and welcoming. My nephew is handicapped and the dentist and her assistant were so patient and kind to him. They really made both of comfortable. I asked if he would go back there. It was a yes. Yes from me too! I would recommend this office to anyone I know friends and family. Keep up the good work. Thank you guys again

Julia H.



I've been a patient of Dr. Taheri for 17 years. He is CONSISTENTLY so calm, gentle, offers the best and most accommodating patient care. When I moved out the area I went to another dentist who had a more convenient location and now have come back to Dr. Taheri, because him and his whole practice are professional and take great care of my teeth.

Tiffany W.



I was recommended to visit the Taheri Dental Group and was seen by Dr. Ema Chohan. I was extremely happy with my experience and my results. She and her team, specifically Julissa and Ana made me feel well taken care of. I got an exam, cleaning, X-rays, and some work done on my 4 cavities. I don't have dental insurance and they were very helpful. I would definitely recommend to anyone! Alread…

Crystal A.



I've been going to Dr. Tahiti for six years now and I've never been happier with my smile. I was scared of dentist because of past experiences with prior dentist but he honestly helped me feel comfortable about making dental appointments and being excited about going to the dentist. We're like family now and my whole family goes to his offices for good, gentle and thorough servic…

JUDY G.



Friendly, efficient, caring dental support

Linda K.



The people in Dr. Taheri's office are very friendly and professional and Dr. Taheri is also very warm and friendly as well as being a very caring dentist who takes the time to make you feel comfortable with the procedure that is being done at the time ….Barbara McHugh

Bardara M.



When I visited my former dentist, I always required nitrious oxide (even for a cleaning) due to my tooth sensitivity. Dr. Tahiri and his hygienist Nina are so gentle that I haven't needed the drug since switching to this practice. Even a root canal and a tooth extraction have been done with only local anesthesia! They are knowledgeable, compassionate, and able to take care of a wide range of…

Jan B.



Absolutely a wonderful experience with Taheri Dental Group! From the very professional, knowledgable, friendly front desk staff & dental assistants in the back. Of course, Dr. Taheri and Dr. Jamali are wonderful! They take time to listen to you and answer any questions or concerns.

Merri H.



I feel very fortunate to have found this dental office. Upon meeting Dr. Le and Nina, I explained that I suffered from anxiety and have avoided visiting dentists in the past because of it. Dr. Le took the time out of her day to make me feel comfortable and at home. They are honest, polite, genuine and funny! Dr. Le even saved me from having to have a root canal. Very professional and polite front…

Gabrielle S.



I have been a patient there for over 10 years and am extremely pleased with their service. Just last Sunday I chipped my tooth and so I called them from work first thing Monday morning and they were able to get me in the same day. Not only that but just yesterday, less than the original two to three week time period for a crown to be made, my crown was in and was able to see me on the same day. Am…

Kerry T.



Dr. Taheri is the best Dentist in this area. After my first visit to the Woodbridge, VA office, I knew he would be my Dentist as long as I live in the area. The determining factor was the way he extracted a tooth. Honestly, I did not know the tooth had been removed. During numerous additional visits, I noticed how kind he was to the elder and those without dental insurance. This a doctor that real…

Anthony B.



All my experiences with Dr. Taheri and his group has been positive. The staff is professional, courteous and most of all skilled. Dr. Taheri is a wonderful perfectionist and understands and is considerate of my vanities when is comes to my smile. I have been with him for over ten years and I do not see the relationship ending. The Taheri Dental Group gets a 5 STAR rating from me.

Donald B.



Dr. Taheri is the best and the office staff is always friendly and helpful. Going to the dentist is a more pleasant experience when going to Dr. Taheri's office.

Denise D.



My husband and I have both been patients of Dr. Taheri for many years in the Manassas office. We have always found him to be very kind and most competent. We feel very fortunate to have a dentist we feel comfortable with and one we can trust.

ML O.



Had my dentures religned, Dr. Taheri did an outstanding job and his nurse went out of the way to ensure dentures were properly cleaned to fit well. My wife is having work done over several months to have inserts done. This is a very professional practice and the office staff is very helpful.

Ron D.



I have been a patient with Dr. Taheri for over 5 years and their staff is very friendly and professional. They always remember my name when I walk in and very personable. I never have to wait long when scheduling my appointments either; very prompt. I would reccomend any of Dr. Taheri offices if you are looking for a great dentist with a great support staff!!!

Steven B.



Most recently I have been seeing Dr.Lee to have some needed dental work done –I like her work and her compassion, she takes her time and explains well what is being done–also the office manager Kat was very helpful in getting some insurance charge confusion cleared up for me in a favorable fashion–all in all a positive experience–I do not give praise easily as my chosen fie…

Howard H.



Both my husband and I came in for routine cleanings yesterday. We found that Dr. Chohan is very thorough, gentle and caring in her check up and cleaning. She offered several possible options for future treatment which we both will need. We were able to decide on a treatment plan that will suit each of us. We found everyone in the office to be especially nice and caring. Her assistant Amy polished…

Bill W.



I am in San Antonio, Texas and was helping my daughter, Carrie, find a dentist. I did research by zip code and began making phone calls. I selected this group because the staff was wonderful, answering questions and reassuring me that Carrie would be in good hands. The financial arrangements were made and according to my daughter, Dr Taheri is smart, effective and responsive to her needs, even aft…

Marjorie C.



I went to DR.Taheri for a deep gum cleaning and was very scared. I have a fear of needles and was very anxious. Dr. Taheri and his staff made me feel so at ease that I was able to get the four needle injections and feel great. He was very patient as I was nervous. He has excellent bedside manners and made me feel at ease. My gums were red and now looks great. I can't believe I put it off for…

Behnaz T.



Can't say enough about Dr. Taheri and his staff. They are the epitome of what a dental office should be like. Thanks

David G.



I've been a patient of Dr. Taheri for the last 3 or 4 years after many years of neglect on my part. I've always hated going to the dentist.From the moment I first arrived at the office his staff was always friendly Dr. Taheri was never judgemental fixed my years of neglect.Now I make sure I go every six months and now my wife is a patient of his as well. I'm very pleased with the…

Bruce H.



I called first thing in the morning with a problem and got an appointment 3 hours later. Kat was a fantastic receptionist and the entire staff was friendly and professional. Thanks for the help.

Stephen S.