How Taheri Dental Is Keeping Woodbridge, Virginia's Teeth Clean!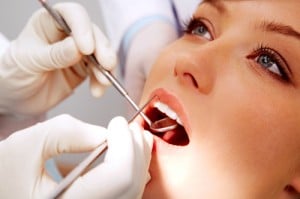 Taheri Dental Group has been proudly serving patients throughout Woodbridge, Virginia for years. It has been a true pleasure to be a part of the community, and we look forward to helping more patients achieve their dream smile. Here's what we're doing to give our patients in Woodbridge bright, clean smiles!
Quality Cleaning
Regular cleanings are a vital part of your overall oral hygiene. At Taheri Dental Group in Woodbridge, we always stress the importance of coming in for scheduled cleanings. We make the process easier by scheduling ahead of time before you leave the office. Generally, your cleanings should be done every six months, but this can vary depending on your circumstances. For example, patients being treated for periodontal disease may require more frequent cleanings. Even if you're brushing twice a day, and flossing, getting a professional cleaning every six months is still necessary. We can get into those spots you may have missed, and also apply fluoride treatment to your teeth to strengthen them and make them less susceptible to decay and cavities.
Detailed Oral Exams & X-Rays
In order to get a full picture of your oral health, we do an exam and X-Ray for every new patient. We check the health of your gums, look for cavities, tooth decay, and other potential oral health issues that you may be suffering from. In addition to the visual check, we also do an X-Ray to see what's going on beneath the surface. With the X-Rays, the dentist will be able to see your tooth alignment, potential issues with wisdom teeth, and other problems that we aren't able to see with the visual examination.
Listening To Your Symptoms
While we're able to get a wealth of information from the X-Rays we take, and visually examining your teeth, we also want to hear from you. The dentist will take the time to understand any pain, discomfort or other symptoms you may have been experiencing since your last dental visit. Try to provide as much information as possible so that we can get a better understanding of the problems you're experiencing. Very often, people come to the dentist because they begin having issues. Some of our patients in Woodbridge come to us when they have symptoms such as:
Bleeding gums
Bleeding when they brush their teeth
Tooth pain
Jaw pain
Clicking or popping in their jaw
Problems with their bite
Even if an issue is intermittent, and not something you experience on a regular basis, don't hesitate to bring it up to the dentist during your appointment. Some symptoms are beginning signs of a problem developing. If we're able to spot it early, you can avoid a need for more extensive and expensive dental work later on.
Focusing On The Patient Experience
We realize that some people simply hate going to the dentist. Whether due to a bad experience in the past, or the general fear that some people have about getting dental work, dental anxiety is a real problem that affects many people. In fact, 9-20%of Americans completely avoid going to the dentist due to their fear. With that in mind, we've built our practice to be very patient friendly. From the calming atmosphere in our office to the friendliness of our entire staff, we do everything we can to make your appointment as pleasant and stress-free as possible. When patients are calm, relaxed, and unstressed, the appointment is able to go by smoother. We want to be able to provide you with the best care possible, and keeping you comfortable makes it easier on you and the dentist.
Visit Our Dentist In Woodbridge, Virginia Today!
We hope that gives you a little more insight into what makes our office special, and how we help our patients in Northern Virginia get the best treatment possible. If you're in Woodbridge, or nearby areas such as Lake Ridge or Occoquan, we'd love to have you as a patient. Call or visit our office to schedule your appointment!   3114 Golansky Blvd. Suite 101 Woodbridge, Virginia 22192 Phone: (703) 583-2800