Invisalign: Frequently Asked Questions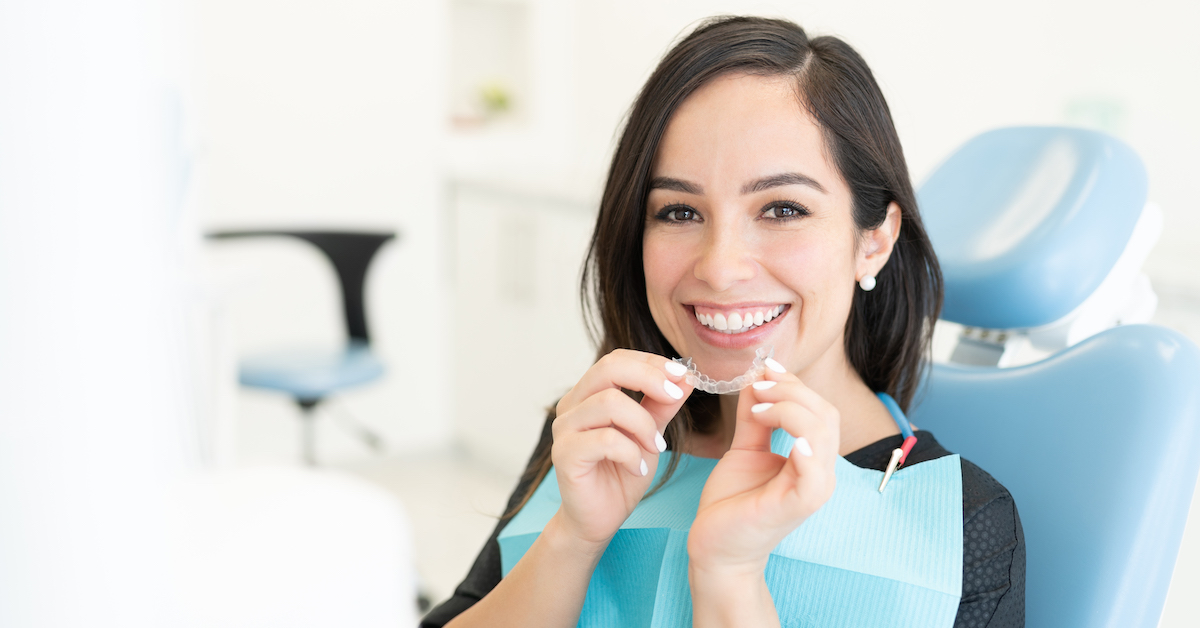 If you've often wished for a more beautiful smile but hate the thought of the traditional metal wire-and-bracket braces, then the innovative Invisalign system of aligner trays might provide the solution you seek. Invented and developed by four Stanford students in the late 1990s, the Invisalign aligner trays can gently encourage your teeth to move into proper alignment, without anyone else being aware that you're wearing braces.
The aligner trays are made of SmartTrack®, which is a space-age thermoplastic that's FDA-approved and free of BPA, BPS, gluten, and latex. It's very thin, very pliable, and very effective at helping to reshape your teeth into the proper alignment.
How Does the Invisalign System Work to Straighten Crooked Teeth?
Due to the elastic properties of SmartTrack, the trays fit very snugly onto your teeth and apply gentle pressure so that the teeth begin to realign to the proper shape. The trays look similar to a retainer, and they're very comfortable in addition to being virtually invisible. The trays are replaced every week or two to accommodate the changes in your bite, so you'll always be working on correcting your tooth alignment. Since the trays fit your teeth so snugly, you needn't worry that they'll move around or fall out. They won't affect your speech either, so you can be comfortable in public when you're wearing your trays.
There are some stipulations to wearing the trays, one of which is that they must be worn for at least 20 hours each day. They must be removed before you eat or drink anything, and they must be kept clean. Smoking and chewing gum are no-nos when wearing the Invisalign trays, and it's essential to practice good oral hygiene. If food particles get trapped under the trays, they can contribute to decay and gum disease, which will complicate and delay your treatment.
Does Invisalign Work Well for Everyone?
Invisalign aligner trays work well for most people, but there are some exceptions, such as:
Children and young teens usually aren't good candidates for Invisalign because their teeth and jaws are still developing.
Those who have limited dexterity may not be good candidates if they're unable to remove, clean, and replace the trays daily.
Those who smoke aren't eligible for the Invisalign trays because nicotine damages the trays.
Those who aren't dedicated to wearing their trays for 20 to 22 hours each day won't be good candidates because the trays don't work if you don't wear them.
Who Determines Whether Invisalign Will Work or Not?
Your Invisalign dentist is the best source for this type of information. When you come to our office for your initial consultation, we'll examine your teeth and jaws to determine if Invisalign is the best option for you. You must be dedicated to the program for it to work, and if you have complex orthodontic issues, other types of braces may work better for you, but your Invisalign dentist will advise you if this is the case.
What's the Procedure for Getting the Invisalign Trays?
When you come to our office for your initial consultation, your dentist will examine your teeth and jaw to determine if Invisalign is a good solution for you. If it is, and you and your dentist decide to proceed with the aligner trays, then we'll make an impression of your teeth and use that to fabricate your aligner trays.
You'll receive replacement trays every week or two, and you'll need to return to our office for a progress check every four to six weeks. By the date of your first progress check, you should notice an improvement in your smile. Your entire treatment should take between 12 and 18 months, and you may need to wear a retainer for a time after your treatment is complete.
What Adjustments Will I Need to Make to My Daily Routine?
Although you may need to make some minor adjustments in your habits, your routine shouldn't be altered by wearing aligner trays. You should:
Stop smoking
Avoid chewing gum when wearing the trays
Remove the trays before eating or drinking
Clean your trays daily and practice good oral hygiene
Wear your trays for 20 to 22 hours daily
How Can Invisalign Trays Be Invisible?
The Invisalign aligner trays are virtually invisible because they're made of extremely thin polymer that is invisible. They fit your teeth very snugly, so there's no air gaps or bubbles to indicate that you have a plastic tray on your teeth. Invisalign aligner trays have been successfully worn by millions of people throughout the world for almost three decades, so they have a proven track record of success.
If a person is standing in very close physical proximity to you, they may notice that you're wearing aligner trays. However, most people see what they expect to see, so even those who are standing very close may not notice the trays. Those who are at a distance won't notice them.
What Do I Need to Do After I'm Done with My Invisalign Treatment?
When you've completed your treatment, your dentist may recommend that you wear a retainer for up to a year. The retainer only needs to be worn at night, and your Invisalign dentist will advise you of the length of time you need to wear it. Wearing the retainer will prevent your teeth from reverting to their previous misalignment, so it's important to follow your dentist's instructions for wearing the retainer.
Is There an Invisalign Dentist Near Me?
Only dentists and orthodontists who have been specifically trained by Invisalign can offer genuine Invisalign aligner trays. If you're interested in the Invisalign system of aligner trays, then call Taheri Dental Group at and schedule an appointment. Our dentists will evaluate your orthodontic needs to determine if the Invisalign system is the best for you. If not, then we'll recommend a method to help you achieve the beautifully straight and even teeth that you want. Call us today. We look forward to working with you.