Qualities of Great Dentists in Woodbridge VA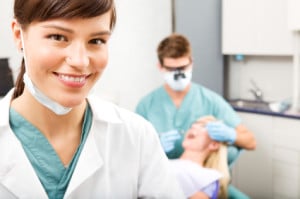 Great Dentists in Woodbridge VA know how to manage the dental work of their patients regardless of how old that dental work is. There are many times when people go to the dentist not knowing what is wrong with their teeth, but they can get assistance from their dentist in fixing their teeth. The dentist goes through many procedures, and they make sure that the patient is happy with their smile.
Repairing Dental Work
Dentists are used to repairing dental work that was done many years ago. There are new techniques that can fix old dental work, and there are new devices that can improve old dental work. Dentists can replace toxic fillings with new materials, and dentists can fix crowns or bridges that are not of the highest quality. There are many things that dentists can fix easily, and they are going to make it much easier for people to hold on to these dental pieces without spending money on new ones.
Repairing Broken Teeth
Teeth that have damage can be fixed easily when you are going to a dentist that has experience fixing teeth. You want to work with someone who is going to help you with teeth that have bothered you for years. You can share these problems with your dentist, and they can let you know the solutions to your problems. This is a safe and effective way of dealing with dental work that you will not find terribly expensive. Let the dentist guide you through the process.
Traits of the Best Dentists
The best way for dentists to help their patients is to be kind. There are some traits that good dentists all have, and these traits help patients feel comfortable when they come to the office. These traits are worth looking for, and it is wise to leave if you do not think your dentist possesses all these traits. Kindness Every dentist should be as kind as possible to all his patients. You want to work with someone who is nice about everything, never shames you for dental problems and is helpful when you have questions. This kindness goes a long way to helping you feel better. Genuine Concern You want to go to a dentist who has genuine concern for all the things going on in your life. This means that the dentist is listening when you talk, and they are keeping up with the things that you do. You need to make sure you are thinking about these things the first time you meet the dentist so that you go with the right one when it is time. The best dentist in the world is the one that meets all your needs in a kind way. You need to go to a dentist that is going to help you with your teeth, but you need to go to a dentist that is a good listener and attentive. There are many ways to find a good dentist, but these traits are a very good place to start.