Dental Care and Pregnancy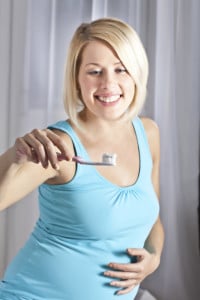 When pregnant, there are dozens of things that you need to think about in order to maintain your health and your child's health. While there is no set list of important issues to address, there are a few issues that women fail to take proper care of. One of the greatest examples is dental care during pregnancy. For most women, dental care falls to the wayside not only because of their fear of going to the dentist, but also because they are uncertain of whether it is actually safe to visit the dentist while pregnant. To ensure that you're making the best decision for your pregnancy, below are some important points to realize when addressing dental care as a pregnant woman.
Pregnancy Hormones and Dental Care
During pregnancy, dental care is not only highly recommended by dental professionals, but it is also pretty necessary. When you're pregnant, your body produces more hormones and as a result of those hormones, your body is unable to protect itself as well from dental health problems like gingivitis and cavities. Not only can the gingivitis and other dental health problems harm your dental health, but studies have also shown that it can affect the fetus. A few studies have reported that women who suffered from gingivitis during pregnancy are more likely to have a premature birth and a child with a low birth weight. Therefore, to protect yourself and your child, getting the proper dental care is necessary.
A Higher Risk of Gum Disease
Gingivitis, also known as gum disease, is very common among pregnant women for two reasons. First, pregnant women's hormones increase the body's inability to fend off harmful bacteria in the mouth. Second, during the first trimester, the nausea and vomiting destroys the tooth enamel and gums, making them more vulnerable to disease, cavities, and more.
Visiting a Dentist While Pregnant
To ease your concerns, visiting your dentist is not only safe, but it is also highly recommended during pregnancy. Your dentist will work with you throughout your entire pregnancy to ensure that you're taking the right dental steps and that your fetus is also safe during any dental activity. To ensure the best outcome, you should discuss your pregnancy with your dentist at your earliest possible convenience. At this point, your dentist is going to determine the state of your dental health and inform you of whether you need any dental work done. Ideally, heavy dental procedures are only done in the first trimester or after the child is born. This is to ensure that you feel comfortable during the procedure. If you think you might need serious dental work done, then the earlier the better.
Maintaining Good Dental Health
Lastly, aside from keeping up with your dental visits, you should also work on maintaining the proper dental health throughout your pregnancy. This means brushing your teeth and flossing consistently. Not only will this protect your teeth during your pregnancy, but it will also ensure that your teeth stay in good condition well afterwards.